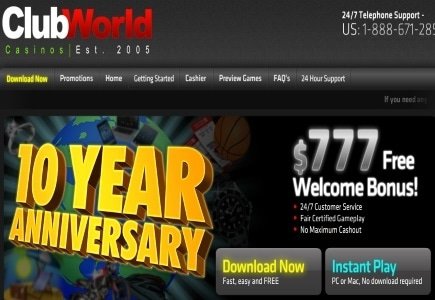 Club World Casino is turning 10 on June 21, 2015 and to celebrate they've got plenty of juicy promotions in store for players including bonuses, freerolls and more.
$10,000 is the magic number in June and the newsletter is filled with offers leading up to the big day starting with Random Flash Prizes. The first 50 players logging in on specific days will be flashed with a pop up featuring a random prize, which may include special bonus offers.
Club World will also host $10,000 Freerolls with the initial event open to all players. Subsequent $3,000 and $5,000 tournaments will be available to new players only.
$10k Tourney Schedule:
Monday 15th June: $2,000 Free Roll running from Monday – Wednesday.
Wednesday 17th June: $3,000 Free Roll which will running from Wednesday – Friday.
Friday 19th June: $5,000 Free Roll running from Friday – Sunday.
The current progressive jackpot on the exclusive Club World Slot is currently worth over $14k and if it's hit before June 21st it will start at 10 times the standard pot giving players the excitement of playing for $10,000!
Last but certainly not least is the Big Prize, which is something truly unique. One player will be drawn to win their very own customized prize worth $10k. Choose anything under the sun with a nice chunk of change to spend. This offer is only available for depositing players within the months of May and June.
Get in on Club World's birthday bash and celebrate throughout the month of June!