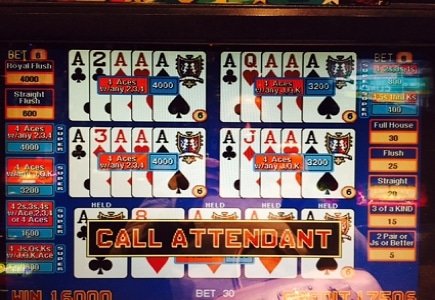 We think Vegas is always the first to have the latest games and hot new releases and when it comes to Slots that is pretty much true. Unfortunately it does not hold true for Video Poker. IGT's AVP and Game King among the best in the business offering a wide variety of games. The question is where are they??
Here are a list of new releases and other variations:
· Barnyard Poker
· Peek & Play
· Super Times Pay Mega Progressive
· Ace Invaders
· Anything's Wild Poker
· Back It Up Double Bonus Poker
· Big Split Poker
· Big Times Draw Poker
· Bonus Hand Triple Play Draw Poker
· Deal Draw Poker
· Double Draw Aces
· Fast Action Draw Poker
· Ultimate 4 of a Kind
· Wheel Poker
· Good Times Pay
· Random Rewards Poker
· Hyper Poker
· Stack 'em Poker
· Crazy Times Poker
One would think if there is any place that would be on the cutting edge of having them all it would be Vegas….wrong! And if by chance you are lucky enough to find them, the nickel and dime machines are slim to none.
There are however plenty of Ultimate X, Super Times Pay, Double Super Times Pay and Spin Poker machines. Makes a Video Poker player wonder why this selection is prominent not only in Vegas but other Casinos throughout the country. Is it because the odds of winning are tougher or is it because the bet value is higher than for most standard games and this is a big attraction for Casino owners.
Super Triple Play Draw Poker is a multi-game machine. There is one game in particular that offers nice payouts – Super Double Bonus Poker.
Pay Table:
4 Aces w/2,3,4 pay 4000
4 Aces w/K,Q,J pay 3200
4 Aces pay 1600
4 2s, 3s, 4s w/A,2,3,4 pays 2000
4 2s, 3s, 4s pays 800
4 Ks, Qs, Js w/A,K,Q,J pays 1600
4 of a kind 5 – K pays 500
Looks like a great pay table but guess what?? Most Casinos have removed the Super Double Bonus Poker variation from the gaming platform. This can be pretty frustrating considering it will display this game and flash the payouts when the machine is idol. Only when you sit down, place money in the machine do you realize the game has been removed.
Why is Vegas weeding out Video Poker more and more? What happened to the Video Poker sections, they are gone and replaced with a few machines scattered here and there throughout the Casinos. What happened to Progressive Nickel Poker machines?
As a VP fan we all know the odds are much more in our favor than spinning the Slots. Perhaps that is the reason they have become far and in between