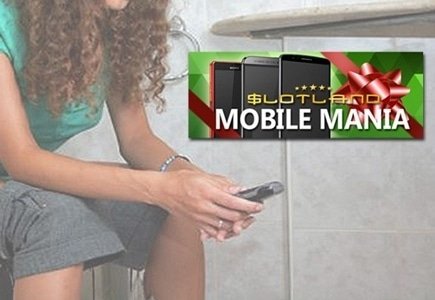 Recently, Slotland held an exciting promotion, their Mobile Mania contest, during which they awarded twelve smartphones to lucky members for correctly answering trivia questions. Among those awarded include the HTC One M8, a Sony Xperia Z3 Compact, and a Lenovo S8 S898T+. With these new phones, many members decided to take advantage of the obvious opportunity to try out some of their favorite games at the site via mobile device.

Now, many of the winners are speaking out about their experiences and their preferences. Previous winner, Peggy S., generously handed her brand new cell phone over to her sister. However, she admits that she enjoys the convenience of mobile games, and often plays them on her tablet, sometimes in the bathroom. A member since November 2000, some of her favorite games include Lucky Ductsand Air Mail, and Ice Queen.

Tammy Z., another winner, also graciously gifted her new cell phone to a friend. While she prefers the desktop to mobile devices, she says her friend, "loves it. Keeps talking about all the things, he can do with the phone."

Of her own preferences, Tammy adds, "Personally, I prefer playing on a desktop computer because I can get comfortable and the screen is big so I can see what I am winning. I like the mobile though, because you can take it anywhere, even the bathroom."

She adds, "I try to play the game of the month. If I win more, I play longer. Other than that I don't really have a strategy."

Another winner, Jessica M., is a fan of playing from her devices as opposed to her desktop and enjoys the convenience. She says, "I love the phone I won. It's high-tech and easy to use. I also play slots on my iPad. I love how easy it is to play all the games. You can play anywhere. I've even played in the hot tub!"

Furthermore, she adds, "Slots are fun and easy. My only advice is don't bet more than you can afford to lose and just have fun playing!" $4000 serves as her largest win to date, but she's hoping that will change soon.

If Jessica were to get her hands on a big jackpot, she's got big plans. "I would renovate my mother's kitchen and buy her a new car. She has never had one and has spent her life raising me and my brother, giving up so much so we could have the best lives. She deserves a surprise like that – and then some."

Finally, Edward B., yet another Slotland Mobile Mania contest winner, also hopes to win big in the future so that he can invest in a business.

Players can take advantage of a total of 34 real money online slot games, that are truly unique and conveniently accessible via smartphones and other devices.