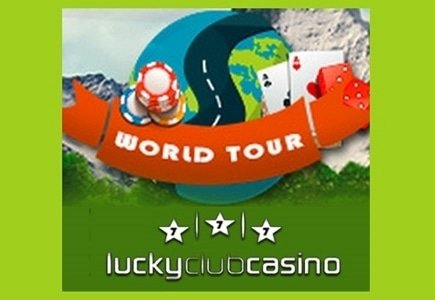 Online gamers have been given the opportunity to travel the world via the World Tour casino bonuses event at Lucky Club Casino. Players will have the chance to visit places they have never been before, snagging spectacular bonuses along the way. The adventure begins in Aspen, during which members can enjoy the Wonderland slot game, specifically themed around winter sports.

The second stop during this global journey is Istanbul, and at this point, the featured game will be Ancient Wonders. The tour then moves on to Beijing, with Silk Caravan serving as the featured game. Finally, players can feel like a kid again in the more fictional setting of Candyland, where the colourful reels of Candyland Cash can be spun for tasty wins.

Up to $2,500 may be accumulated, along with 200 free spins, for those members who claim all four of the exclusive World Tour casino bonuses. Keep in mind, however, that the bonuses are not available all at once, and must be redeemed in consecutive order. They will occur in the following order:

The first consists of 75% on up to $300, and also includes 50 Free spins on the Wonderland slot. To redeem, use the coupon code: LCASPEN1. Second, members can input the code, LCISTANBUL2, for 100% on up to $500, plus 50 Free spins on Ancient Wonders. Third, the code, LCCHINA3, can be used to earn up to 125% back on up to $700 as well as 50 Free spins toward Silk Caravan. Finally, 150% back on up to $1,000, in addition to 50 Free spins on the Candyland Cash game, can be redeemed with the code, LCCASH15.

Bonuses are valid until June 30th, and more details are available here.