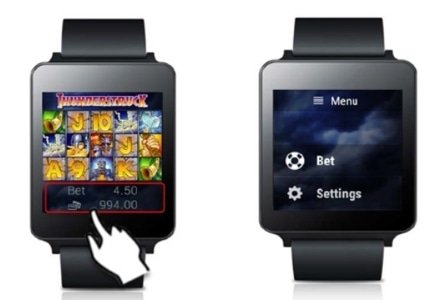 With smart watches on the rise as the next technological craze, it was only a matter of time before the gadget and casino gaming would join hand in hand. For those of you who have not yet jumped on the bandwagon, a smart watch is a modern device that must be paired with a mobile phone or tablet in order to function and gain internet access.
In particular, an Android Wear smartwatch, can only be joined with one device at a time. It is recommended that users stick to one device, most commonly a cell phone, for the utmost ease of use. Customers must also keep in mind that the watch must be paired with a cell phone if they are planning on accessing the Android Wear casino, as this is the only device it supports.
Royal Vegas Android AIR just recently unveiled its very first casino game designed for Android smart watches.
The title serves as a companion game for Android AIR installations, and now those who own the watch can play Microgaming's Thunderstruck slot conveniently from anywhere at any time, as long as it is on their wrist.
Royal Vegas released a statement on Monday, explaining, "There are many variations of smartwatches but the Android Wear casino is designed for smartwatches using Android Wear, the official Android operating system for wearable devices created by Google. This release of the Android Wear casino is not supported on other smartwatch devices, such as those produced by Pebble and those running the Tizen operating system."