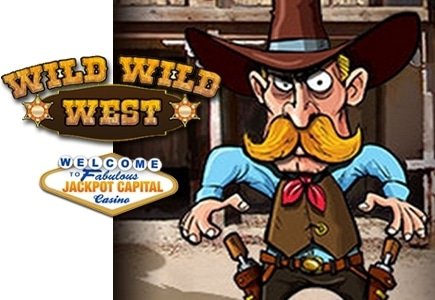 Jackpot Capital continues to rewards its players through July 19, 2015 with Wild West casino bonuses worth $13,000 every Monday for a total of $90,000 up for grabs!
Players earn a spot on the scoreboard by playing and scoring the most points to win the best bonuses. What makes this event unique is the random draws giving everyone a chance to win. Each Monday the top scoring players receive their share of $13,000 in casino bonuses with an additional $5,000 available on Fridays in the random draws for Bronco Bonuses.
"We like to structure our bonus offers so that we can reward frequent players but also give more occasional players an opportunity to get a bonus too," said Jackpot Capital Casino manager Oliver Smith.
"I like getting a bonus boost on Fridays," said one regular player at the casino, popular all over the world. "It gives me a little more to play with over the weekend, maybe move up a notch and get a bigger bonus on Monday."
Jackpot Capital is powered by Real Time Gaming and offers a great selection of mobile games available to smartphone and tablet users.