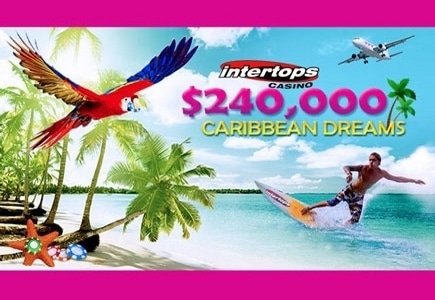 A tropical vacation isn't feasible for everyone, but luckily, Intertops Casino is doing its best to bring the Caribbean to its players. The site is hosting a Caribbean Dreams event and is generously giving away $30,000 each week, resulting in a grand total of $240,000 and bonus up to $500 for 300 players.

The promotion will run until August 31st, with prizes being awarded every Monday. Points will be awarded to members based on Scoreboard rankings, and those who make the top twenty will have a chance at receiving a $1000 cash prize in a final draw. Current rankings can be viewed here.
Mondays are not the only days that players can benefit throughout the end of August. In fact, Thursdays will also bring something to look forward to. Each Thursday, 50 players who have played earlier in the week, will be chosen at random to receive emailed bonuses.

Players can participate now until the end of August, while also gaining access to hundreds of casino games, poker and sports betting options, powered by RTG.