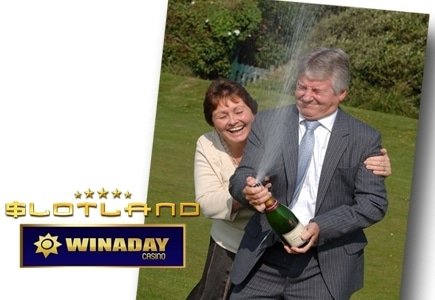 Luck can strike at any time, and for two particular players at Slotland and WinADay Casino that happened quite recently. Joyce B, player at Slotland, started her Monday with the mindset of: "Spin to win - oh, well, spun for fun!" and ended up walking away a couple of grand richer. However, the WinADay winner walked away with an incredible Jackpot from playing a popular slot.

Joyce was introduced to Slotland by friends two years ago, and her being a skeptic of online interactions, she never expected the level of service she received from Slotland's live chatting from customer service representatives. "I was mistaken. This was a real person. Introductions made… $25 deposited, and BAM, you know it -- a welcome bonus! A freebie! And, the rest, as they say, is history."

From then on Joyce frequented the site, and in less than two hours on Monday and a small deposit of $100, she won.

"That day was different," Joyce said. "In less than two hours and a very small deposit, Lady Luck struck. I had about an hour before the withdrawal cut-off time. I began spinning; skipping around from game to game: Gods of Egypt, Treasure Island, Fruit Mania, Super Seven's(my favorite) AirMail, (another favorite), and Piggy Bank. Exactly five minutes before the withdrawal cut-off time I hit! $2300! I'd deposited just $100 and withdrew a cool $2300. It wasn't a million dollars or the big progressive jackpot, but who's complaining?!"

Over at WinADay Casino, one incredibly lucky player described her surreal experience as she won $20,000 on the classic Vegas Mania slot.

The winner commented, "I've been lucky before but I've never cashed out such a large amount!" She also had some advice for players given her 5 years of online slot experience stating, "Start your bets small and work your way up to larger bets, betting one line shows to be profitable at times as well."

The gracious winner at WinADay put her $20,000 to use by paying off taxes and treating herself to a new car.