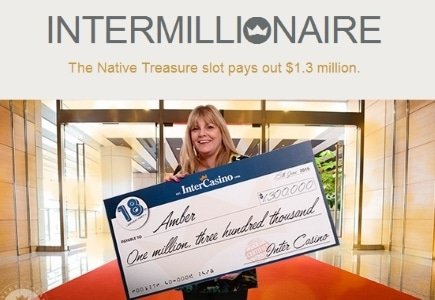 We have recently learned that InterCasino produced another millionaire in May, when one of its more classic slots paid out a massive $1.3 million. The lucky winner chose Native Treasure, a 5-reel slot from Amaya Gaming, when she managed to trigger the free spins feature shortly after she started playing. Amazingly, after the first set of 100 free spins, came another 100 spins and then another! Amber was able to trigger a total of 1,600 free spins which took over 4 hours to finish leaving behind a stunning win! The $1.3 million could very well be one of the biggest non progressive wins ever paid out by an online casino.
"I could not believe my eyes. I kept saying 'this can't be true' but it was and I won an amount of money I could never have imagined," Amber said. "I have already given some money to my family, bought a new carpet for the house, and now I'm planning a big holiday with my husband and our 5-year-old daughter. We'll probably go on a cruise."
Peter Marcus of InterCasino went to congratulate Amber in person and handed her a cheque for the prize money, and of course shared a few celebratory glasses of Champagne.
"We are thrilled as a casino when we see players walk away with life-changing wins," said Mr. Marcus. "It's not every day you get to be a part of history in the making."
Interestingly, Amber's mother was one of the first players to register an account at InterCasino in 1997. In 2014 Amber saw one of casino's ads, which reminded her of how fondly her mother talked about InterCasino, so she decided to register an account herself and the rest is history.