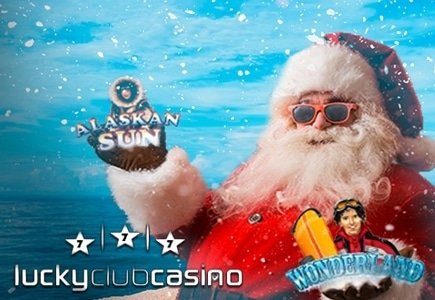 While most may be used to the sometimes celebrated 'Christmas in July,' Lucky Club Casino decided to change things up a bit by getting into the holiday spirit in August. The site operates as a full-service casino, and is equipped with dozens of gaming options powered by NuWorks Gaming. Plus, it offers its members ample opportunities toward deposit bonuses.

All month-long, players can look forward to 'Christmas in August' bonuses, which total up to a whopping $1600. Additionally, up to 250 free spins on select slots are up for grabs. In total, there are five separate bonuses for claiming, and those members that claim all five will earn a $50 no deposit bonus at the month's end.

The five offers are as follows:

#1: Plus 50 free spins on Wonderland slot
Coupon Code: AUGCHRISTMAS1

#2: 75% up to $200
Plus 50 free spins on Silk Caravan
Coupon Code: AUGCHRISTMAS2

#3: 100% up to $300
Plus 50 free spins on Cool Pool
Coupon Code: AUGCHRISTMAS3

#4: 125% up to $400
Plus 50 free spins on Duel in the Deep
Coupon Code: AUGCHRISTMAS4

#5: 150% up to $600
Plus 50 free spins on Catmandu
Coupon Code: AUGCHRISTMAS5

#6: $50 free no-deposit bonus

Coupon Code: AUGCHRISTMAS6

Available only to players that redeem Bonuses 1 – 5, in order

Lucky Club casino manager, Alex Hunter, explains the inspiration for the current promo: "Remember how hard it was to wait for Santa's arrival at Christmas," asked Hunter. "Well, we figured, why wait? Life's too short! Let's have Christmas now!"

All five bonuses are accessible until August 31st, and complete promotional details can be found here.