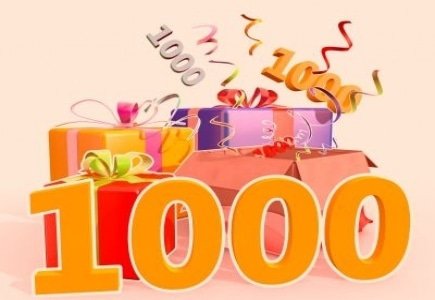 It would be hard to imagine much less fathom in the 1990's the rapid growth the online gambling market would take. We could say the same for the grand success of LCB winning iGB Best Casino Affiliate Award two years in a row plus an award for Best Overall Affiliate.

The record speaks for itself as it nears 75,000 in memberships. Not only is this a milestone for LCB, but, for the industry as a whole as it continues to flourish on an international level.

In 2006 we have went from a handful of reviews to a historic landmark in 2015 with Wintika Casino making number 1,000 in total reviews and still counting. It is an important attribute to the gambling community offering resourceful information so players where they can make the right choices where to play.

The review itself has evolved at LCB over the years including a big change to the format style implemented just a few months ago. Originally information about a Casino covered important standard inquiries including software, promotions, bonuses and contacts.

Today we are excited about new written features that we think are very valuable to players including new sections that cover: Advantages, Disadvantages, Loyalty Program, Deposit/Withdrawal limits, Ratings and Conclusion.

The terms and conditions of a Casino are read through carefully by the LCB writers who will list important rules bringing awareness to the community before making a deposit. This eliminates important terms for the player that may have already been overlooked.

Rogue Casinos are defined by predatory terms and conditions as well as a high volume of player complaints. These reviews can be found under the Warning tab outlining the detailed reasons they are placed on the LCB list.

Beautifully displayed screen shots give a glimpse of the Casino featuring: Games lobby and Banking Methods. The team handpicks Slots to highlight in rich imagery including the helpful Payouts page.

Member Comments is a section that has grown and an important source that players rely on. Reliable, honest advice and opinions from those that have played at site offers firsthand experience. Quotes are highlighted in an array of colorful shades displaying latest comments posted on the forum keeping members in the know.

For latest Casinos, the "New Casino" tab lists the most current reviews. At a glance check out the how many days/hours it has gone live on our list, number of rated votes and software. Click on the Review button and get launched to the complete detailed review page currently featuring SlotAngels, Mr Star, Instanbul Casino, Casino Heroes and Betspin.

There is a dedicated team that work together to create the most accurate and informative review. They too are players and understand what it takes to develop the most informative review possible.

Cheers to 1,000 Casinos and huge congrats to the writers and team behind the scenes that have what it takes to publish great reviews.