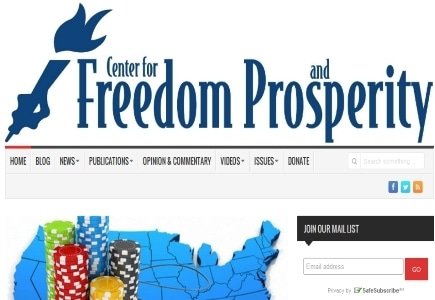 Referencing Sheldon Adelson's activity in funding anti-online gambling activities, the president of the Center for Freedom and Prosperity, Andrew Quinlan described the proposed Restoration of America's Wire Act as an assault on the Tenth Amendment of the Constitution and criticized Nevada's Senator Harry Reid for his involvement.

In an article for The Hill, a Washington DC publication, Quinlan wrote:

"Some casino owners worry that the growth, legalization and regulation of online gambling is a threat to future profits. They have instituted a massively funded campaign to overturn the actions of states like New Jersey that allow only gambling for their residents.

"Adding insult to injury, RAWA also bans states from allowing the sale of lottery tickets on the Internet, likely to assist convenience store owners for whom the sales constitute the bulk of their profits. More than a dozen states have some kind of online lottery services and would have their preferences overridden by Washington if this law passed."

The article in its entirety is available here.