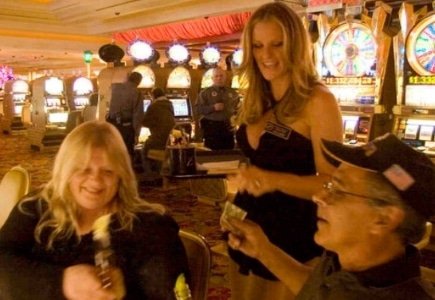 Back in 2012, professional poker player Phil Ivey, winner of 10 WSOP bracelets, was accused of cheating at baccarat by an Atlantic City Casino. Borgata Hotel Casino & Spa claims Ivey was seeking an unfair edge at cards, allegedly knowing about their defects, cheating the casino out of $9.6 million. The professional gambler countersued Borgata in July 2015, claiming that he and his partner, Cheung Yin Sun, never touched the cards and that what they did was a legal strategy.
Ivey's recent response to Borgata allegations is that the casino uses its own methods of gaining an advantage over the player: supplying a steady flow of free booze served by flirty waitresses. Ivey pointed out how most of the unwanted attention, coming from the sexy Borgata employees, would trigger when he was betting $50,000 to $100,000 a hand.
"It distracts you from your playing," Ivey said. "I mean, anything they can do to give themselves an advantage. Everyone knows that alcohol impairs your judgment, and they offer that, and they have the pretty cocktail waitresses and they're all very flirty. They're talking to you, you know. I got quite a few numbers."
The Borgata claims Ivey and an associate exploited a defect in cards that enabled them to sort and arrange good cards, the cards used in the games were defective in that the pattern on the back was not uniform. The casino says the technique, called edge sorting, violates New Jersey casino gambling regulations. Ivey denied any misconduct, saying that what they have done was perfectly legal, and that the casino employs its own methods of gaining an advantage. Ivey has said he simply noticed things that anyone playing the game could have observed and bet accordingly.
But he also answered a question during a deposition about his drinking habits while gambling at the Borgata.
"Was I drunk while I was playing? I'm not sure if I ever wasn't drunk while I was playing," he said.
But Ivey said it didn't matter whether he was drunk or not, because his companion — who did not drink — was making the calls on which cards to bet on.
The professional poker player lost a similar lawsuit last year in Britain's High Court by the Malaysia-based Genting Group. The court ruled that the casino doesn't have to pay Ivey $12.4 million he had won through edge sorting.