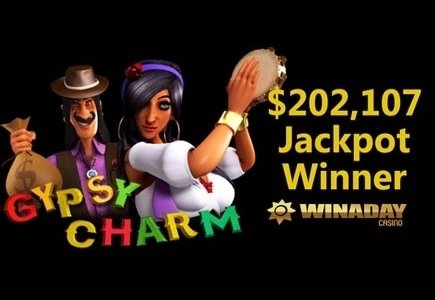 Big things are in store for retired high school teacher after a recent $200k win at WinADay. Donald T. struck it big with a progressive jackpot while playing the, 5-reel, 25-payline, Gypsy Charm, one of the casino's 32 premium slots.

The game takes on a mysterious gypsy theme, and offers added features such as a wild symbol, free spins, and a multiplier. Its coin values range between $0.05 and $1, and it offers an exciting 'Fortune Teller Pick Me' feature, during which tarot cards are selected to win prizes.

Donald, an ex-military officer, told a WinADay customer service representative, "I've won a few hundred here and there, on the computer and in Vegas. But I've never been this lucky before!"

On the night that he won, he had been playing on his iPad, and admits to only playing a select few games that he really enjoys. With his wife seated across the room watching television, Donald triggered the $202,107 progressive jackpot. With his winnings, he plans to buy a new home, as well as pay for a needed surgery for his wife. A surprise is also said to be in store for his son, who is credited for getting him to play that night: "My son gave me a gift card for my birthday. That's how I won that day. I'm going to send him a special thank-you card – with tickets for a Caribbean cruise," he says.

All 32 premium slots are accessible upon logging in to WinADay. Their gaming collection consists of 16 penny slots, 6 video poker games, keno, and roulette.