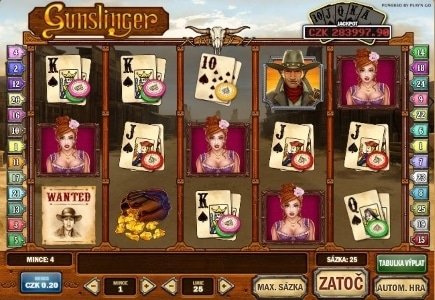 Bohemia Casino, solely dedicated to the Czech gambling community, has relieved one of its players of his worries about the future. Mr. Alexandr from Ústí nad Labem region won a hefty sum of 1,179,844 Czech Korunas (over $48,000) just days ago, playing one of the casino's most popular games - The Gunslinger slot machine with a progressive jackpot. The most exciting part is that Alexandr won this unbelievable jackpot with just 30 CZK and some luck triggering the bonus game. This is surely not Alexandrs' first and only win at Bohemia Casino but it is definitely his biggest one so far.
Bohemia Casino representative contacted the lucky player to congratulate him on the massive achievement and to ask about his plans for spending the money.
"I will pay off my loan and buy a car. I will put some money away and decide later what to do with them. Maybe a holiday, I really don't know yet." Said Alexandr.
When asked to describe the moment of win, Alexandr responded:
"At first I could not believe what just had happened. After the win I played like three more rounds for a few bucks and then I had to switch everything off. After that it was just a pure joy and I started thinking what to do with the win."
Bohemia Casino is exceedingly happy for its loyal player and proud of the online casino's gaming collection, which enabled Alexandr to play this popular 25-line progressive video slot with a Wild West theme. Players can spin it just for 5 CZK, which is less than 25 cents and it offers a full range of winning combinations.