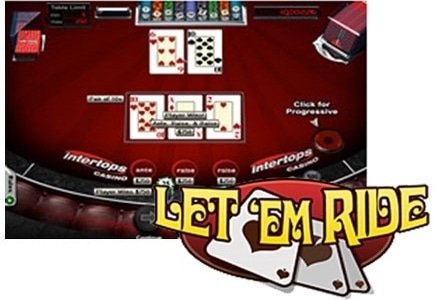 Intertops Casino is well-known for its selection of hundreds of slots and table games powered by RTG (Realtime Gaming), however, they have also been known to award players in a big way. $120,000 from the game, Let 'Em Ride, along with over $182K via a network progressive, was awarded to one Intertops Casino player just recently. Big things are in store for 30-year-old Donovan A. as a result of this exciting and major occurrence.

He told an Intertops Casino customer service representative that while he doesn't usually play the poker-based game, "I've played it enough to know how it works, but it definitely was just a lucky win."

With his over $300K winnings, he plans to buy a place in Las Vegas. Donovan admits he had a bit of a feeling he was going to win: "I knew it was coming when I saw the first three cards. I jumped out of my chair! Later I went to the casino to celebrate with champagne and tip some dealers."

Although he is an avid casino-goer, he feels the odds are better online, adding, "I like casinos because of the excitement, but I prefer online casinos because the odds are better for both casino and sportsbook."

At this time, members can look forward to the site's exclusive $150,000 Oktoberfest Casino Bonus Event, which continues until October 5th.

Intertops Casino's $150,000 Oktoberfest Casino Bonus Event continues until October 5. Points are awarded to players based on play, and rewards are administered based on weekly scoreboard rankings. Those who make it to the top 20 each week, will be entered in a $1000 cash prize draw.