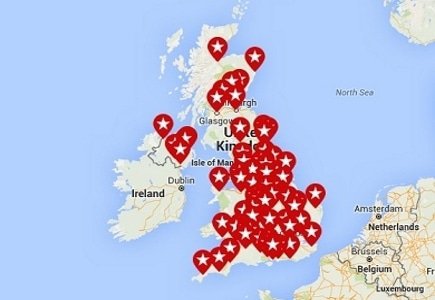 Does your geographical location have any effect on your luck? Maria Casino has collected their own winnings data to find the luckiest cities around the United Kingdom with the results marked on the 'Luckation Map'.

Instead of basing the amount of luck on casino or bingo winners living in a specific region, Maria Casino considered the population of each city to determine how lucky it is.

The results indicate that Portsmouth in Southern England is the luckiest city in the United Kingdom with Chichester coming in at #5 and Southampton 11th. Perhaps breathing in all that southern sea air has something to do with it?

Moving up toward the North West, Liverpool is the 2nd luckiest city with Manchester the 4th. Bangor placed 3rd and Preston is the 7th luckiest.

On the flip side Salford placed 6th on the list on unluckiest cities. Midland cities such as Lichfield, Coventry and Worcester also made the unlucky list. As for the unluckiest city, the Yorkshire city of Ripon took the top spot.

Delving deeper into its luck research, Maria pinpointed the location of its winners and took to Twitter to see which UK city felt the luckiest. They noted each time someone made a positive comment regarding luck and the finding revealed that those in Northern England feel luckier than those living in Southern England with Liverpool, Leeds, Sheffield, Manchester, Newcastle and Durham placing in the top 10 on the lucky list.

The Scottish cities of Glasgow and Edinburgh also ranked high on the list, while London came in at #56 out of 66.

See Maria Casino's Luckation Map for more information and to see how your city ranks.