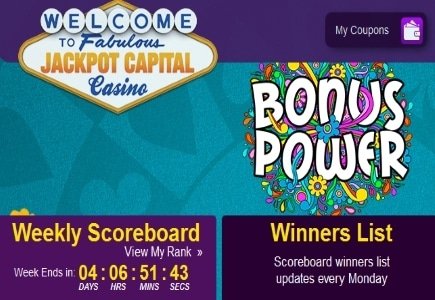 Jackpot Capital Casino is showing love for their players and sharing a new $90,000 promotion as one last hurrah before the summer is officially over. From now until October 18th, every Monday the top players on the leaderboard will share $15,000 bonuses with very lucky random winners receiving a cut of a $5,000 bonus on Fridays.
For players to be eligible for the Monday bonuses, they must play from either the site's all new collection of tap-and-swipe mobile games or from the online casino. Doing so will allow for players to earn points and become ranked on the leaderboard.
The current leaderboard, and searchable player positions, can be viewed any time at the following link: http://promotions.jackpotcapital.eu/bonuspower
Oliver Smith, manager at Jackpot Capital Casino, further explained, "Monday bonuses are based on Scoreboard rank, so players that have played a lot get top prizes. Anyone can win Friday bonuses though. They're completely random – and just in time to use them to improve Scoreboard ranking over the weekend and qualify for bigger bonuses on Monday!"
For more details and to receive notifications of future events, players are encouraged to like the casino's Facebook page
here
.