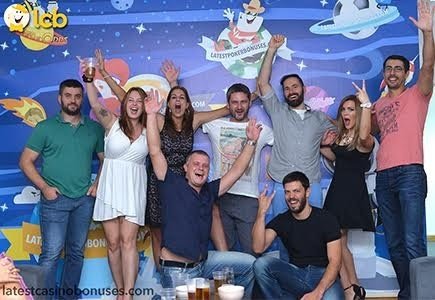 LCB team was so excited about their brand new super cool office that they had to throw a party and add Zuga's birthday to the mix! The event was a huge success resulting in many new wonderful memories and embarrassing funny stories.

It's a well-known fact that LCB has an international team with members sprinkled all around the world ( Australia, USA, UK, Romania, South Africa), but this time the party was in Belgrade, Serbia. It was a pretty hot Saturday night; new guests kept arriving to the office greeted by beautiful hostesses, smiling Zuga and an eager photographer. Our famous admin made sure there was plenty of tap-beer, meat on a stick and laud music to keep this party going late into the night.

Soon we had Foosball and darts tournaments, dancing and picture taking, drinking and laughing. Even though Luckynn and Miro wouldn't agree, girls dominated in foosball and we have pictures to prove it! Markotik was on the side cheering for us with his awesome-looking hair, whilst Drtheolen choose to enjoy a more relaxing evening, chatting with friends, sipping beer.

Why are we so happy and proud to be in our new office?! Because it has lazy bags, Foosball tables, awesome chalkboard walls, on which you can doodle heavy metal graffiti and best of all it's our happy place filled with not friendly coworkers but co-working friends. At the end of the evening, once again we left the LCB office with smiles on our faces, thankful to be part of this team, a lot of love goes into everything we do!

For more party pictures see our Facebook Page.