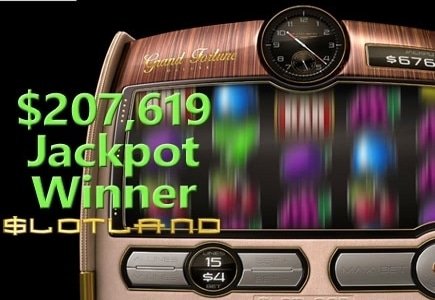 This month, Slotland has been pulling out all the stops to celebrate its 17th birthday with its loyal members. To make matters even more exciting at the online casino, member Charles M. recently cashed out with the site-wide progressive jackpot, which had accumulated a whopping $207,619, after putting in a mere $20 and spinning 5 Bar symbols.

The jackpot was triggered while playing the Grand Fortune slot, and Charles stated that he, along with his entire family, were over the moon about the exciting occurrence. He plans to put some of his newly acquired cash toward a brand new car, and to pass his current automobile down to his son.

He explained to a Slotland customer service representative, "I love cars so that will definitely be one or two of my first purchases! My teenage son will love that too because I'll hand down my old car to him!"

Reflecting on the win, he added, "Once I won about 3000 bucks. That was nice but this is so much better! I was totally dumbfounded when I realized what I'd won. The next morning I woke up so excited I stopped at a car dealer on my way to work thinking what new car to buy."

The jackpot winner discussed additional plans for the cash for he and his family, adding "We're looking forward to a family vacation. I have always wanted to see the Great Wall of China. Right now we're all voting for different places so we'll take our time deciding."

Slotland manager, Michael Hilary, reflected on the big win, and stated, "We're so excited to have had a big jackpot win during our 17th birthday celebrations. And with a new game coming out before the end of the month, this will certainly be a birthday party to be remembered!"

Up until the end of the month, players can also look forward to $6500 worth of bonuses. A prize draw will be held at the end of October, and those that have deposited a minimum of $75 between October 16th and the 31st will qualify to win.

To sweeten the birthday celebrations even further, the site will also be launching a brand new hunting-themed game with a sticky, expanding wild to make for lucrative wins.