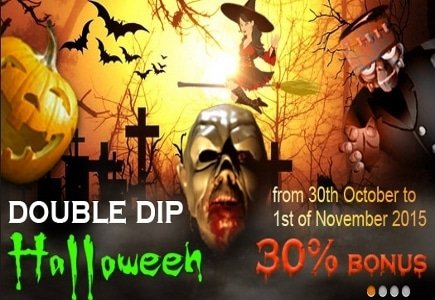 EuroCasinoBet has a Halloween treat in store for its players with the Double Dip Bonus giving you not two but three chances to win if you lose.
The promotional period will begin on Friday October 30th and end on Sunday 1st November. The amount awarded will be 30% of your losses up to €150 on the following games:
1. BOOK OF PHAROAN HD
2. GHOST NIGHT HD
3. HORROR CASTLE HD
4. DANTE HELL HD
5. DANTE PURGATORY HD
6. MAXIMUM HD
7. VAMPIRE KILLER HD
8. CARNIVAL BONUS
9. THE PIRATES TAVERN
10. BURLESQUE HD
11. UGA AGE HD
12. ANGRY ANGELS HD
You must play one of the above listed games in order to receive the Double Dip Bonus. Once your bonus amount is calculated it will be credited to your account within 24 hours and players have 2 days to play the bonus.