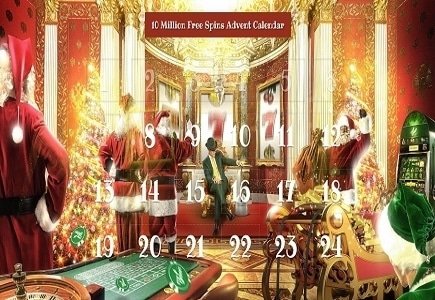 Dressed in his Christmas green all year round, Mr Green is bringing back the Christmas Calendar with more than 10 million free spins to give away this holiday season.
Players have enjoyed the Christmas Calendar in past years so why not bring it back to Xmas 2015? The calendar will reward you in the 31 days before Christmas with loads of free spins to be won from 24th November through 24th December 2015.
One deposit will earn players a series of free spins every day for 7 days.
· Deposit €20 and receive 10 Free Spins for 7 days
· Deposit €50 or more and receive 30 Free Spins for 7 days
If you deposit prior to the start of the calendar, you'll automatically start day 1 with 7 days of free spins.
Sundays are considered 'special days' and reward players with even more free spins.
In other Mr Green news, a Swedish player hit a near €2 million jackpot while playing IGT's Mega Jackpots Slot Siberian Storm on 6th November.
The win was very exciting and Mr Green and CEO Mr. Bo Wänghammar visited the winner who had this to say:
"I've always dreamed of being able to buy a house of my own, and now I will be able to do it. We're actually going on vacation in a couple of weeks to the Canary Islands, but I think our next trip will definitely be someplace more exotic, a real paradise island somewhere, maybe the Maldives. I'll probably indulge myself with a new car as well, a nice new car. I'm not going to quit working, but now I can choose a job that I can really enjoy, not just because it pays the bills. That will make a big difference in my life, for sure."
Celebrate the holiday season with Mr Green's 2015 Christmas Calendar and start the year off right!