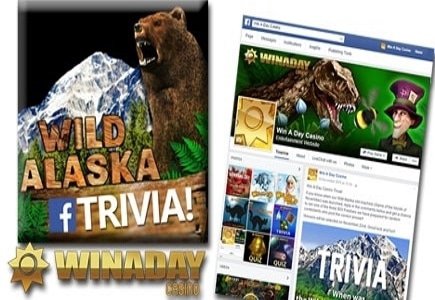 WinADay Casino has recently achieved quite a milestone, reaching up to 4000 Facebook Friends this week. The online casino is equipped with a collection of slots, including 32 premium, 16 penny, and 6 video poker games, in addition to keno and roulette.

Perhaps the casino has accumulated so many friends as a result of the inside scoop their friends get via Facebook. They get first dibs on details about the latest bonuses, and even bonus codes toward extra freebies. The fun is expected to continue this holiday season as manager, Michael Hilary mentioned, "We did a photo contest a few years ago. Players posted pics of their Christmas trees on the Facebook page. I think we'll do something like that again this year."

To celebrate its latest feat, the casino will be hosting a unique Trivia Contest that will award players with $50 prizes. The site will use the real money slot game, Wild Alaska, as the theme for the trivia question. A total of three, randomly selected players who answer the question correctly, will receive $50 in free cash. Answers must be posted on the casino's Facebook page and will be accepted until November 23rd.

Michael Hilary, WinADay manager divulged the smallest of hints regarding the trivia question, stating, "I won't give it away. But if you've been playing with us a few years it'll be an easy question for you!"

The wilderness-themed, Wild Alaska slot game, also serves as November's Game of the Month at the site. A lucky winner selected at random will win a $250 bonus at the end of the month, while another will receive $100, and $50 bonuses will be awarded to three more. The game is available for play via desktop, smartphone or tablet.

A new game will also be unveiled in the near future, and is expected to have a Greek mythology theme. Members can look forward to checking it out sometime before Christmas.