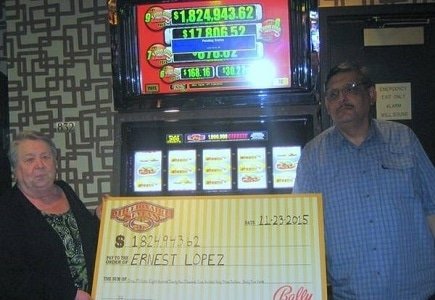 The Las Vegas Sun reported a $1.8 million jackpot win in a Laughlin, Nevada casino this week.
When vacationing at a gambling destination it's standard to have a little breakfast and start the day with some casino games. This is exactly what Ernest Lopez and his girlfriend, Linda Boelter, of San Antonio, Texas, did on at the Golden Nugget on Monday.
Following their meal, the pair eventually took a seat at a Bally Technologies' 1,000,000 Degrees Slot Machine and hit a $1,824,943 jackpot, which smashed the $1.5M jackpot won in February of this year.
Lopez was spinning on the max bet of $3 per spin on the 1 cent 300 coin game. Within 5 minutes of playing, the casino said he hit the top progressive jackpot at 12pm.
The 1,000,000 Degrees game offers players a chance to win the $1 million progressive jackpot when nine 1,000,000 Degrees symbols appear on the reels at max bet. Once won, the top progressive resets to $999,999.99 and continues to climb. The slot is connected to a linked jackpot combining the wagers made at casinos across the country to build the jackpots.
The previous record was set by a player at Ho-Chunk Gaming Madison in Madison, Wisconsin on February 11, 2015. The winner chose to remain anonymous and won a $1,507,335.10 jackpot.
Bally Technologies was acquired by Scientific Games, who delivers this and additional gaming content to land based casinos throughout The United States via its subsidiary, SG Games.