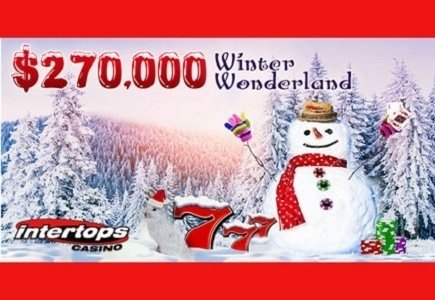 For some, the month of December marks the start of the Christmas season; a bustling time for shopping, baking cookies, and spending time with the ones you love. Others, however, are simply looking forward to Intertops Casino's extravagant Winter Wonderland casino bonus event.

Ultimately, the site plans to award over a quarter of a million dollars to its players via casino bonuses. Each week, $500 will be awarded to 300 lucky players. Bonuses are awarded to members on a weekly basis, as based on their points ranking, which is accumulated as a result of game play. Player scoreboard rankings can be viewed here.

The top twenty players with the highest points each week will be entered in a $1000 grand prize draw, which will be held at the promotion's end. In addition to Fridays, every Thursday will also be a day of giveaways. Fifty players will receive bonuses up to $150. In order to qualify, individuals must have played during the first half of the week.

A loyal Intertops member boasts, "I find the bonuses are better if you stick with one place that you like. I don't bounce around to a lot of different casinos. Intertops has all my favorite games so I just play there and I do pretty good in the bonus department!"

Members can take advantage of the Winter Wonderland casino bonus event all throughout the holiday season, and into the New Year, with its final day being, February 1, 2016.