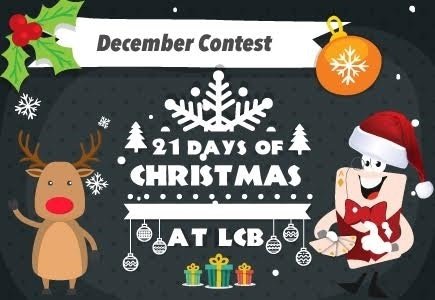 Ho ho ho and Merry Christmas. It's the holiday season and LCB is playing Santa with our 21 Days of Christmas contest!

The fun began on December 1st so there is still plenty of time to participate, if you're a member that is. Register an account on our forum and not only do you have the chance to win a share of $250 in LCB Shop points but you'll also start earning points for every post you make that may be used in the LCB Shop, yet another way that we like to reward our members.

As for the details of the contest, global moderator lipstick_xoxos has gotten her creative juices flowing once again this month. There are 21 prizes to be won over the course of 21 days.

Contest prizes include:

· 1 $60 winner
· 1 $45 winner
· 1 $25 winner
· 1 $20 winner
· 1 $15 winner
· 1 $10 winner
· 15 $5 winners

A mystery question will be posted daily accompanied by an image and the first member to guess correctly will win a prize. For example, the question on day 1 was "How many Christmas trees are in this forest?" along with an image and longtime member rena35 was the first to guess correctly. We'll have to wait until the end of the contest to see what she won.

You can win up to three times, which at a minimum would give you $15 in shop points if you guess correctly. Shop items range from as low as $1.50 for 25 free spins at various online casinos up to $50 for an Amazon voucher.

Good luck and from all of us here at LCB, Happy Holidays!