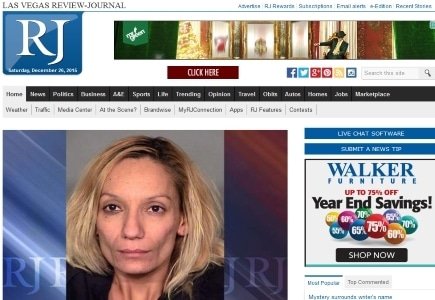 Billionaire casino mogul and anti-online gambling ringleader Sheldon Adelson purchased the Las Vegas Review-Journal, a respected news publication in recent weeks. The purchaser hadn't been revealed until recently and it has caused quite the uproar among associated professional journalists.
On Tuesday, Michael Hengel, the editor of the LVRJ, informed staff that he would be resigning once Adelson was found to be the buyer. He cleared his desk and left staff to continue trying to focus on their work on the paper.
Over in Connecticut, 54-year-old Steve Collins, a professional journalist writing for the Bristol Press, owned by Michael Schroeder, resigned on Thursday.
Schroeder is believed to be fronting for Adelson as the manager for News + Media Capital Group LLC, a new Delaware company used to purchase LVRJ for $140 million. He also attempted to hide Adelson as the owner of the company working to keep his association under wraps.
Erik Wemple published his Washington Post blog regarding Collins' resignation and the financial stress is will likely lead to.
Collins said, "I have watched in recent days as Mr. Schroeder has emerged as a spokesman for a billionaire with a penchant for politics who secretly purchased a Las Vegas newspaper and is already moving to gut it.
"I have learned with horror that my boss shoveled a story into my newspaper – a terrible, plagiarized piece of garbage about the court system – and then stuck his own fake byline on it.
"He handed it to a page designer who doesn't know anything about journalism late one night and told him to shovel it into the pages of the paper. I admit I never saw the piece until recently, but when I did, I knew it had Mr. Schroeder's fingerprints all over it. Yet when enterprising reporters asked my boss about it, he claimed to know nothing or told them he had no comment.
"Yesterday, they blew the lid off this idiocy completely, proving that Mr. Schroeder lied, that he submitted a plagiarized story, bypassed what editing exists and basically used the pages of my newspaper, secretly, to further the political agenda of his master out in Las Vegas. In sum, the owner of my paper is guilty of journalistic misconduct of epic proportions."
Schroeder was given the opportunity to reply but opted not to. Wemple describes the sneaky article in the Bristol Press saying:
"Through interpretation and multiple readings, this blog is guessing that it seeks to advance the interests of moguls, by advocating for something known as "business courts" managed by judges familiar with the technicalities of commercial disputes.
"Peel back a couple of layers, however, and it turns into a hit piece against Nevada District Judge Elizabeth Gonzalez, who is presiding over a case involving Adelson's Sands Casino. "Sir, you don't get to argue with me," Gonzalez admonished Adelson himself last spring in testimony for the case."
Collins further commented, "I don't really care that he's working with Adelson. What I care about is that there's been a secretive and a sort of sleazy way of handling things, and the list of journalistic no-nos just keeps growing and reached the point where I was just fed up."
"I can't teach young people how to be ethical, upstanding reporters while working for a man like Michael Schroeder," he said.
"I can't take his money. I can't do his bidding. I have to stand up for what is right even if the cost is so daunting that at this moment it scares the hell out of me."