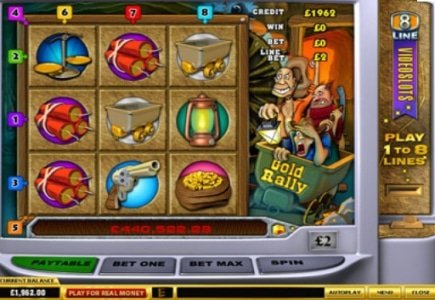 On December 13th one lucky NetBet Casino player has struck gold on Playtech's Gold Rally Slot Game. He hit an astounding $4,050,431.74 jackpot while betting $16 per spin.
This exciting win marks the second largest jackpot win on the game, which launched in 2004.
Alexandre Mangaud, NetBet's marketing manager, said, "We are extremely proud to have paid out this kind of jackpot to one of our players. 2015 has been great year for NetBet Casino as we translated our online and TV investments in a huge growth of our active base matched with an improvement of our games portfolio and product. We are celebrating this great win our players and we are giving away extra prizes to our Facebook community. This is very inspiring as it proves that anyone can win big on NetBet Casino at any moment. Turning $16 into $4,047,097.43 with one spin is really remarkable."
Another jackpot win made for a happy end to the year for one Gala Coral player. The punter won £206,683 while spinning on The Adventures in Wonderland Video Slot. As if that wasn't exciting enough news, the game paid out yet another jackpot but this time worth much more at £765,220 over at Sky Vegas.
The Sky Vegas player scored the biggest win to date for the game within hours of the £206K win at Gala Coral.
There's still time to make history in 2015. Good luck LCB'ers and have a happy New Year!