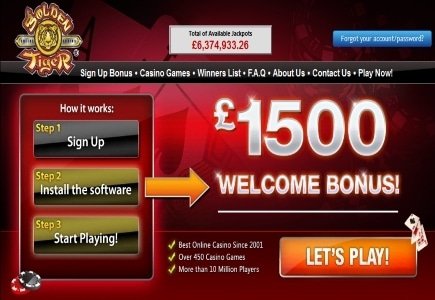 Golden Tiger Casino owner, Apollo Entertainment, has been slapped on the wrists by the UK Advertising Standards Authority for failing to include critical details regarding its GBP 1,500 free bonus offer within the promotional email sent to players.
Players were enticed with a welcome bonus that didn't mention the wagering requirement prior to approval of a withdrawal.
The Microgaming powered Golden Tiger Casino, which holds a license from the Kahnawake Gaming Commission, sent the following offer to recipients:
"Congratulations - You're a weekly winner. GBP 1500 Free! Welcome Bonus. We are offering you: GBP1500 free to play for one hour! Use our money to play our games. If you win, you get to keep it. Deposit is required to claim your winnings."
The email encouraged players further by stating:
"Limited time offer! Mobile users get 30 free spins. No deposit required. Plus GBP 1500 in welcome bonuses. Click here to claim now."
"Terms and conditions may apply" was included as a footnote but as you can see there was no mention of a playthrough in order to withdraw your winnings.
Of course a player claimed the offer but said that it was misleading since there was no mention of wagering requirements.
Apollo Entertainment Ltd responded saying that recipients that clicked directly from the email were directed a landing page, which included a more in-depth explanation of the promotion including the 60x playthrough requirement.
The ASA supported the consumer complaint saying:
"We acknowledged that the email stated "terms and conditions may apply", but we understood from Apollo that consumers were presented with a hyperlink to the terms and conditions terms via a hyperlink from the promotion's landing page," the ASA finding reads. "We therefore considered that the terms and conditions did apply and furthermore, that they were presented to consumers two clicks away from the email. The email should therefore have stated that terms and conditions applied (rather than that they "may apply") and should have included all conditions which might have affected a consumer's decision to take up the offer."
The casino may not send this offer in the same format again and must include all necessary details in its promotional materials.