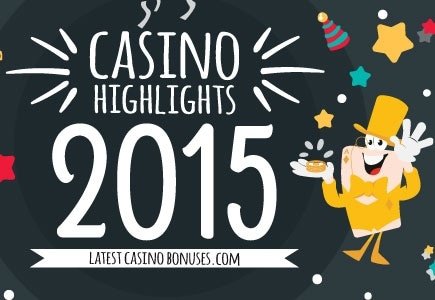 The words "New Year" must be the most frequently used during January and it probably takes the entire month to adjust. Whether you're hanging on to tidbits from 2015 or you're completely over it and ready to tear through 2016, we're here with a new monthly contest for our members.
The "LCB Remembering 2015 Casino Highlights Contest" takes a look back at the most memorable moments for gamblers and comes with $250 LCB Shop Cash prize pool awarding a total of 21 of our quickest members.
Our very own Global Moderator lipstick_xoxos will post a brief clue for 21 days of 2015 highlights. The contest began on January 8th and will run until January 28th.
For example, the clue for Day 1 was "This film at the time had one of the scariest scenes ever! What branded Slot was released in 2015 that was inspired by this classic movie" and member Rosebud quickly responded with the correct answer of "Psycho" to win her share of the prize pool.
As for the prizes, the $250 in LCB Shop Cash will be broken down in the following manner:
· 1 $60 winner
· 1 $45 winner
· 1 $25 winner
· 1 $20 winner
· 1 $15 winner
· 1 $10 winner
· 15 $5 winners
In order to be eligible to take part in the January 2016 content you must have registered on or before December 8, 2015.
As many of you already know, we like to reward members for valuable comments and feedback by awarding credits for your participation throughout the site. The LCB Shop features everything from Kiva and Amazon vouchers to no deposit bonuses, free spins, bitcoins, cash sent directly to your e-wallet and snazzy LCB merchandise. By the way, iPhone users really should take a look at the phone case featuring the LCB logo. It's super cool!
The newest items to hit the Shop include Princess Star Casino 100mBTC, Lucky Creek 25 Free Spins and Mandarin Palace 25 Free Spins. If you've already accumulated some Shop Points, we're in the final days of the Silver Sands 50 Free Spins offer, which will expire on January 11th.
The contest is located on the forum
here
. Good luck to everyone who participates this month and congratulations to the recent winners.