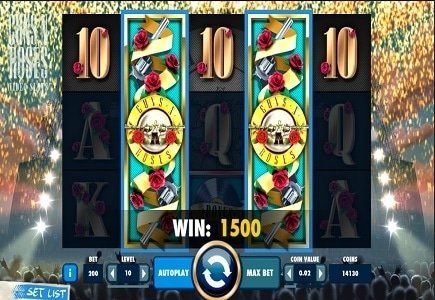 So Guns N' Roses went live and we ask you, is it a hit or just hyped up sh*t?
This is the first Slot to be based on the band and NetEnt confirms that it's their biggest branded game to date.
If you've been able to play the game for real money for fun, you know that you have your choice of four songs that will play as you spin including "Welcome to the Jungle," "Sweet Child O' Mine," "Paradise City," "November Rain" and "Chinese Democracy". There's also an option to turn the music off although I'm not sure why you'd want to.
The intro begins with the band playing Sweet Child O' Mine and there's Axl Rose with that infamous bandana. You'll hear a loud crowd roar followed by a display of the available bonus features including Encore Free Spins, Legend Spins, Solo Multiplier, "Appetite for Destruction Wild" and a Crowd Pleaser bonus game. The logo symbol expands turning the entire reel wild and the Solo Multiplier is a random feature triggered when matching symbols appear on and active payline. All other bonus features are triggered when three record bonus symbols land on the reels.
Simon Hammon, Chief Product Officer of NetEnt, said, "Guns N' Roses are huge and iconic and it's great to launch with one of the most legendary rock bands in history. We've honored them with our most ambitious ever and NetEnt can't wait for players to have a chance to enjoy the musical game experience."
I'm going to say it's a hit but please share your experiences with playing GNR. Do you think it was worth the wait and do we have any big winners following day one of the launch?