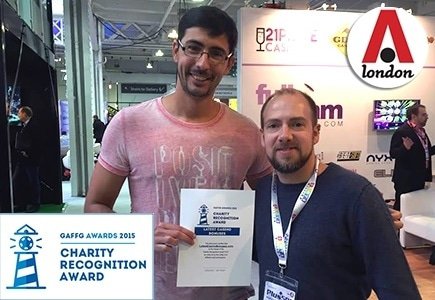 Remember the recent article and how excited we were before the conference? Well, we are happy to report how thrilled we are about the results and more than happy to announce that there will be an abundance of goodies for our members ready in near future, some even this week! We got to see our dear friends and colleagues, party hard and work even harder.

Thanks to Fast Track Affiliates i.e. Raging Bull Casino, Bonnier Gaming (Redbet) and Tivoli, we had lovely dinners during our stay, which were perfect endings to our long days at the conference, followed by some social drinking back at the official hotel Hilton Olympia. Our Airbnb apartment proved to be a great choice as it was only short walking distance from the main venue.
Another thanks goes out to Affiliate Edge Group ( Club USA Casino) for having us at the awards night.

Although we didn't win the Best Affiliate Award this year, we were able to win some more meaningful awards instead. Zuga was proud to receive the Charity Recognition Award on behalf of LatestCasinoBonuses team for going above and beyond in contributing towards a charity by donating time, money and resources. The award was given by John Wright from GAFFG as part of the Gaffg Awards 2015.
As John kindly puts it:
"Latest Casino Bonuses has always done charity work over the years and the LCB team has offered up space on their homepage where casinos can make a direct donation which comes in exchange for a listing as a charity donor. Although the amount of money generated to date isn't significant, they are still doing it when they don't have to and at their own expense. We are certain that more casinos will catch on and for all of those affiliates that copy LCB, we certainly hope this feature and idea they copy too. LCB team is also part of
KIVA
with 56 members and over 200 loans given out to date."

This kind recognition made us very happy and even more determined to continue our charity efforts, so thank you John for your kind words.

LatestCasinoBonuses had a total of 17 meetings first day of the conference, just to give you a hint of volumes of work we achieved in London. We were able to accomplish our goals for this conference due to the fact it was so well organized and easy to find all the operators and their colorful stands. The industry's biggest event (LAC) was hosted in Olympia London Exhibition venue bustling with over 4,000 delegates.
This year's conference was different in many ways, especially with the 2016 iGB Affiliate Awards being free for everyone to attend. We loved the grownup, story- book theme and we would like to use this opportunity to congratulate the winners once again. The biggest thing for us, as always, was getting to meet and greet a lot of people we are in contact with on daily bases. It's always nice to see the faces behind the emails and have an eye to eye conversation, of course we have been in this industry for such a long time and most of them are our good friends, which is always good when it comes to delivering the best product to our players.

Majority of it will be new exclusive free roll tournaments and an abundance of exclusive non deposit, signup bonuses and more. LCBers can expect some new casinos listed on the site, a couple of them for US players, new shop items, new casino representatives on the forum and much more, We don't want to reveal everything and spoil the surprise, so keep a close eye and stay tuned because a lot of new and exciting things are to follow!