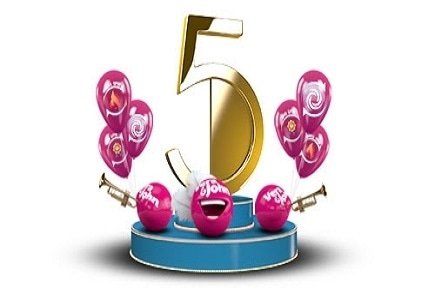 Can you believe it's already been 5 years since Vera&John first appeared online? Time sure does fly when you're having fun. Speaking of fun, they are passing on the birthday rewards to players by granting a series of prizes for three weeks starting on 15th February!
Be there for a chance to bag one of 50 weekly prizes worth €3000 in cash. Participation is simple. You'll earn one raffle ticket for every €20 cash wager during the qualifying week. Players may earn up to 10 tickets per day for the weekly raffle scheduled for the following Monday. Vera&John will announce 50 winners on Monday at 20:00 CET.
The first 10 players drawn will win a share of the €3000 prize pool. The first place winner will receive €1000 with the remaining €2k to be split among the additional 9 winners.
In addition to the cash, the casino is giving away 40 Super Spins every week for a total of 150 weekly prizes to be won.
As for the Super Spins, they are offered in partnership with provider Yggdrasil. In general free spins do not guarantee wins, as we all know, but there's always something to look forward to with Super Spins.
There are two types of Super Spins and here's how they work:
A €10 Win Spin allows the player to spin until they win at least €10, maybe more.
A €10 Thrill Spin allows unlimited spins until you hit a single €10 win.
Please note that this promotion is only available at Verajohn.com. Its VeraJuan.com, VeraJohn.co.uk and VeraJohn.dk domains are excluded from this offer.