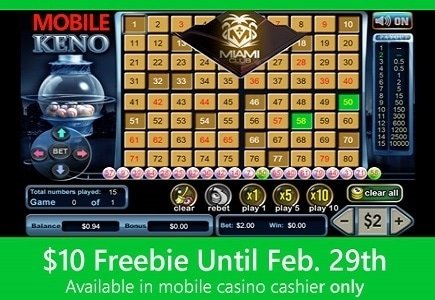 Miami Club Casino is proud to announce the latest addition to its new mobile casino. Players can now play Keno via smartphones and tablets creating a total of 39 titles featured including Triple Gold, Monte Magic and Lucky Irish and Joker Poker.

Try Keno on your mobile device with a $10 free bonus valid until February 29th. Claim code FEBM1610 via the mobile casino cashier to receive your bonus.

Miami Club manager, Linda Hernandez, said, "This free cash can be used to play any game in our mobile casino. We're very proud of our new mobile casino and we're really excited to have added mobile Keno to our collection of mobile slots and video poker games, so I hope lots of players will use their free bonus to check out our games on their smartphone or tablet."

For anyone who is new to Keno, players select up to 15 numbers ranging from 1 to 80. In a style much like lottery, a series of 20 balls are drawn awarding payouts based on the number of matching number selections made by the player. If you have 6 matching numbers your bet will be doubled while choosing all 15 numbers correctly will multiply your bet by 10,000x!

Miami Club features a variety of games provided by Wager Gaming (WGS) plus the popular desktop daily, weekly and monthly Slot tournaments are now offered in the mobile casino, which currently supports iOS, Android and Windows mobile devices.