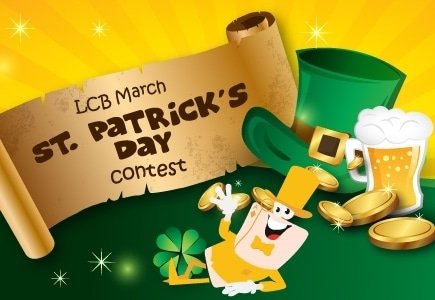 Hot on the heels of the Oscars contest, LCB is back with a $250 LCB Shop cash giveaway in our
St. Patrick's Day Contest.
Members that registered on the forum on or before February 3, 2016 are eligible to enter for a chance to win one of 10 prizes. The contest period runs now through St. Paddy's Day, March 17th.
Of course the element of luck appeals to all gamblers so get into the festive spirit by expressing yourself in the form of a St. Patrick's Day forum avatar and you've already completed the first step in this month's contest. We're then asking you to answer one of 5 questions:
1. How do you celebrate St. Patrick's Day?
2. Do you have a lucky charm?
3. Have you ever found a four leaf clover?
4. Do you believe good fortune is luck, fate or skill?
5. Do you have any good or back luck superstitions?
If I could enter, my answer would be BEER for all five. St. Patrick's Day is the one day a year when beer is an acceptable response to any question, right?
Each member is allowed ONE contest entry so make it a good one. The top 10 themed avatars and answers will be selected for entry into the prize draw to determine the prizes.
The $250 LCB Shop Cash Prize Breakdown:
· 1 $65 winner
· 1 $40 winner
· 1 $35 winner
· 1 $30 winner
· 1 $25 winner
· 1 $20 winner
· 1 $15 winner
· 1 $10 winner
· 2 $5 winners
The newest LCB Shop offer comes from Shanghai Spins. Members may purchase 20 Free Spins for any Dragonfish Slots for just $2 in LCB Shop Chips! This item may be claimed by depositors once a week. The Shop is filled with items to suit and reward all of our members. All 10 contest prizes are enough to purchase multiple Shop offers.
Good luck and happy St. Patrick's Day from all of us here at LCB.