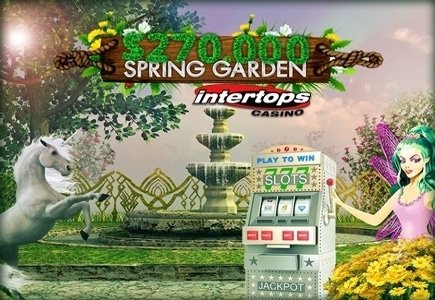 With spring on the horizon, and warm weather well on its way, Intertops Casino is rejoicing, and sharing the excitement with all of its loyal members via its $270,000 Spring Garden casino bonus giveaway.

Intertops' casino manager comments on the inspiration for the exciting promotional offer: "Spring brings us a new sense of hope and excitement. And so does some extra cash in your casino account!"

During this spectacular promotion, players will have access to $30,000 in prizes each week. Additionally, $500 bonuses will be given away to hundreds of players. When all is said and done, a grand prize of $1000 in cash will be awarded to just one fortunate member. The giveaway will run every week until May 2nd.

In order to qualify for this exclusive offer, Intertops players can rack up points in exchange for playing any of the site's games, including the appropriately-themed Enchanted Garden slot game. Points will be tracked via a leaderboard, which consists of the top 300 ranked players. Players are awarded with prizes, based on their rankings. The top 300 players will receive up to $500 in bonuses, while the top twenty will be entered into the grand prize draw at the end of the event.

There are also chances to qualify for other prizes. Bonuses up to $150 are given away on Thursdays for those who wager on casino games during the beginning of the week, on Monday, Tuesday or Wednesday.

Players can keep track of their weekly rankings, and view complete contest details by visiting here.