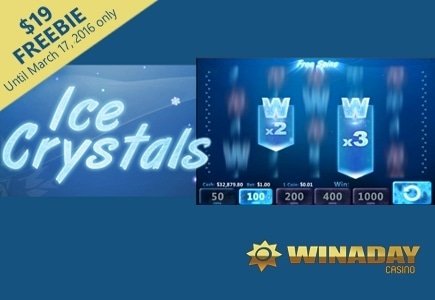 WinADay Casino is home to a brand new proprietary Video Slot with an icy theme and a chance to win some cold hard cash.

Ice Crystals features Trailing Wilds and a Premium Snowflake symbol, which has the potential to pay quite handsomely with wagers of 200 coins per spin.

WinADay is offering a $19 freebie and a deposit bonus this week giving players the chance to try Ice Crystals. Bonus codes are valid from March 11th – 17th only.

Crystals Casino Bonus:

Bonus code: 19FREEBIE

Crystals Deposit Bonus:

150% Bonus

Bonus code: TRYME

In addition to its role as the wild symbol, the Trailing Wild also triggers the free spins bonus. While the free spins are in progress, the icy W wild symbol trails down stopping at the bottom row and becomes a Double, Triple or Quadruple Wild.

WinADay manager, Michael Hilary, said, "When it first appears, the Wild only occupies one spot. With each spin, the original wild symbol remains in its original position, cloning itself and moving the clone down one position on the reel until reaching the bottom row. You end up with up to 4 Wilds stacked vertically on a reel so that creates lots of chances for winning combinations!"

The 3D snowflake is a "premium" symbol activated when players wager 200 coins per spin. Once active, the snowflake can pay as much as 100x the bet.

WinADay Casino now has 33 one-of-a-kind premium slots and 18 unique penny slots. With video poker, Keno and Roulette, it now offers 63 one-of-a-kind casino games. Most are great on iPhones, iPads and Android smartphones and tablets.