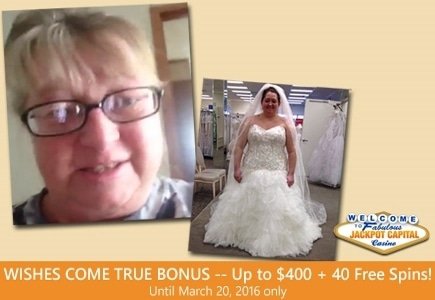 If you ever thought casinos weren't generous this story may change your mind. One of Jackpot Capital's regular players, 61-year-old Deborah Button, has been around for years and even knows many members of the casino's staff.

While discussing a casino bonus with live support, she mentioned that her daughter got engaged on Valentine's Day and that she hoped to get lucky playing Slots so she can help with wedding expenses.

"My daughter showed me the dress she really wanted," Button told Jackpot Capital customer service rep, Sophie. "I said gosh, I wish I could buy that for you princess, but in my financial situation I just can't afford to. Every mother wants to help make their daughter's wedding day special so I felt bad. I know as mother of the bride I should be helping her pay for her wedding, but I just can't. Well maybe I might just get lucky and some miracle will come my way. I am saying my prayers. I want to do this for my beautiful angel… and somehow I will."

Button was innocently chatting with Sophie, whom she had become friendly with during her time as a player, and had no idea of the good fortune that would come her way. Wanting to do something nice for Button, Sophie spoke to Jackpot Capital Casino's manager, Oliver Smith, immediately and he quickly offered the $1,500 that she needed to make her daughter's dream wedding dress a reality.

Sophie said, "My boss is a real softee. I knew when he heard Deb's story he'd want to help."

"We can't do this all the time, of course," said Smith. "But Debbie's been playing with us for a long time. We all know her. So we're really happy to help out."

"You know, it's not just the money," said Debbie. "Their generosity is wonderful, of course, but just knowing that the staff takes such a personal interest in players is really something. I'm really touched."

This isn't the only wedding that Jackpot Capital has been a part of. Back in January another player won $32,000 while playing Slots in the mobile casino while stuck in traffic. He used the cash to get his girlfriend a very special engagement ring.

Smith said, "We always say we send a little bit of Las Vegas all over the world. Maybe we should open a little wedding chapel to go with the casino!"

Still in the giving mood, Jackpot Capital is spreading the love this week with its Make Your Wishes Come True Bonus. Claim a 50% deposit match bonus up to $400 + 50 Free Spins on Aladdin's Wishes with coupon code YOURWISH now through March 20, 2016.