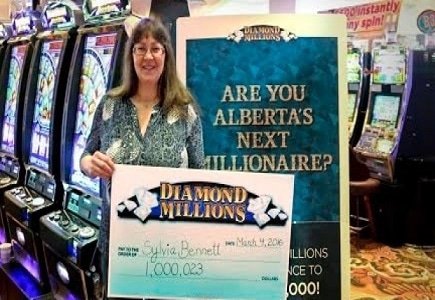 Sylvia Bennett, of Alberta, Canada, may be the only woman in the world that is glad she stayed home rather than going to Las Vegas because as a result, she is now $1 million richer.
The plan was to jet off to Vegas with her husband. "Friends of mine wanted to go to Vegas," said Bennett. "But because the Canadian dollar is so low, we decided we'd do a Canadian version of Vegas, and we went to Edmonton for the weekend."
Bennett had her eye on the Slots at the River Cree Resort and Casino last month when she took a seat at the Diamond Millions progressive slot machine. She was in the right place at the right time and could not believe her amazing luck.
"I thought, 'No, no way!' I'm looking at the zeros, and I looked at the guy next to me. And he's like, 'Yes, you won $1 million!'
"And I still didn't believe it."
The champagne popped and Bennett cut into a 30-ounce steak dinner in celebration of the exciting win.
It seems that she doesn't have big plans for the cash but she's thrilled to have her mortgage paid off and would like to take a vacation with her family. "My husband wants to see Rome and Cuba," she said.
Since 2012 there have been a total of 14 Alberta casino goers that have won over $1 million on Diamond Millions, including Bennett, according to stats from the Alberta Gaming and Liquour Commission.