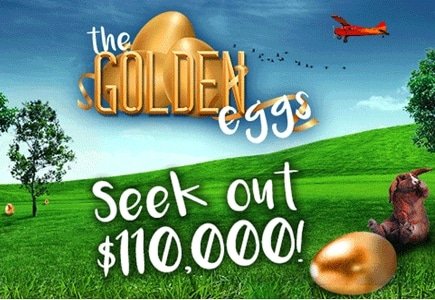 Jackpot Capital Casino has an adult's only Easter egg hunt for its players to embark on this year with the $110,000 Golden Eggs Casino Bonus Event!

During this event, there will be $80,000 in prizes up for grabs for the highest players on the leaderboard plus another $25,000 set aside for random draws. Players should look out for postcards and emails containing $50 Golden Eggs.

All players will earn points in the hunt by playing your favorite desktop or mobile games. Reach the top of the leaderboard to be rewarded with weekly bonuses worth up to $700 and "Scrambled Bonus" random draws with $5,000 in weekly prizes.

A loyal Jackpot Capital player said, "The random bonuses on Fridays are great. If you can bump yourself up the scoreboard a bit over the weekend it can make a big difference for Monday bonusing."

"We have scoreboard prizes and random draws, as usual" said casino manager Oliver Smith. "But some of the prize money is for special contests and giveaways on the Facebook page. Players will also receive clues by email that will help them find additional Golden Eggs."

The $110K Golden Eggs is on now through April 18, 2016. Visit the casino's website to track your score and visit the Jackpot Capital Facebook page for insider details on upcoming promotions.

Real Time Gaming is the software of choice for this brand, which offers a range of traditional casino games and Slots including the latest Eternal Love Video Slot featuring a theme you can really sink your teeth into.

Send the kids out to find the candy filled eggs while you claim the cash filled ones only at Jackpot Capital.