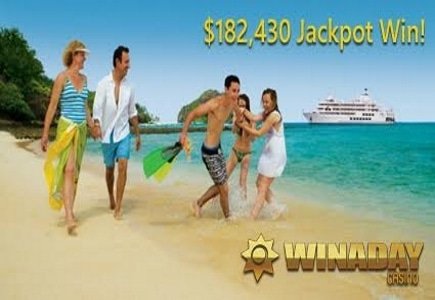 There's nothing more important than family especially for one WinADay jackpot winner who will use her winnings to plan a family vacation and bring her mother closer to home.

The lucky player, Diane B, scored a $182,430 payout in a single spin on the Tropical Treat Slot.

Diane said, "I won a little in Atlantic City years ago But I've never been this lucky before!"

"First on my list for this money is a big family celebration!" she told casino support. "I won playing the Tropical Treat slot so I think I'll take the whole family on a tropical cruise!"

As her mother gets older, Diane worries about her living situation and wishes she could be of more help.

"We'll put some of the money aside for the kids' education, of course but I also really want to use some of this money to move my mother closer."

The last reported jackpot winner at WinADay was Donald T., who won $202,107 on the Gypsy Charm Slot in September 2015 followed by Mary J. who won $101,082 on Busted in March.

The latest game Slot to arrive at WinADay is Ice Crystals featuring the Trailing Wild. With the addition of this new title, the casino is now home to 33 unique premium Slots and 18 penny slots. Video Poker, Keno and Roulette add to the portfolio of 63 one-of-a-kind casino games.

The majority of the games are available on mobile devices including iPhones, iPads and Android smartphones and tablets.