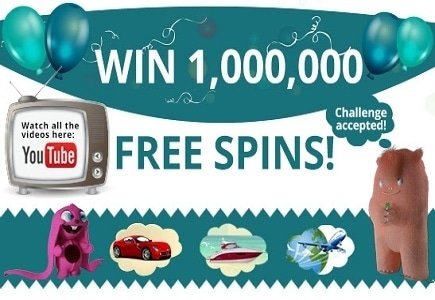 DrueckGlueck is running an amazing promotion giving players the opportunity to win 1 million Free Spins! Sadly, there can only be one winner and your creativity may land you this fantastic prize.
The 1M free spins giveaway began 30th March and ends 31st May 2016. To become a free spins millionaire, the casino is putting all of its players to the imaginative task of creating "an unusual, viral, funny or impressive VIDEO of anything related to or including DrueckGlueck".
They've even suggested some direction for you to take when filming:
Write and sing a song about the casino.
Dress up as a Gluck and film yourself in public.
Create a graffiti art based on the casino (in an appropriate place, of course).
At the end of the promotional period, one winner will be selected. Originality pays in this contest so take one of their suggestions or come up with a unique video idea of your own.
Log in or register
here
to submit your videos. Please note that your entries should not be longer than 5 minutes and you may submit multiple videos.
The winner will receive their 1,000,000 free spins within 7 days following the announcement of the top video selection. All free spins will be awarded at 0.10 per spin; however players may opt for a cash prize instead of the free spins.
Read the terms and conditions in full and start filming your way to become a Free Spin Millionaire!