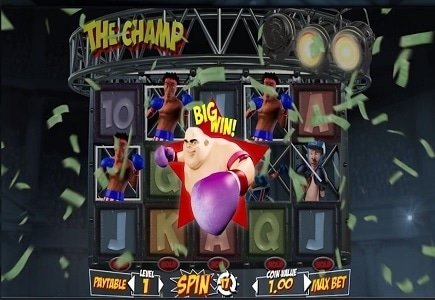 Easter Island Studios is a recently launched game developer with a unique quality to its games. They have indicated that they may soon launch for real money play but in the meantime they've got a few games already in their portfolio including the latest addition, The Champ.
This 20-line 3D Video Slot features a boy who must face the World Champion boxer, The Slugger. The Champ is small and puny but with a seasoned gambler on his side he may triumph.
The game starts with a fun video leading into the story of the reels you are about to spin. Features include Wild Fury, Multiplier Belt and "Big Win" animation, just in case you were in doubt about the size of your payout.
Other games in the portfolio include Wheel of Destiny, Sprezzatura, Professor Archibald and London Heist. The company debuted London Heist in February at the ICE Expo in London.
In terms of a real money launch, we were told to keep an eye on them for some good news.
For now all we can do is watch the preview and hope to soon get the chance to enter the ring and help this lightweight out against The Slugger.
The Champ Preview