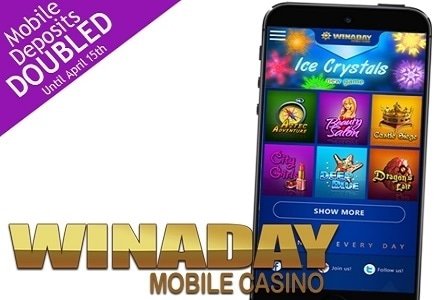 Due the popularity of its games on mobile devices, WinADay is busy revamping its mobile casino interface, which will feature game settings on semitransparent buttons directly over your game, rules and paytables available with a quick swipe and more. Games are currently available to iOS and Android users without app or download requirements and a special bonus offer available until April 15th.

Mobile Slot Casino Bonus

250% up to $750

Must deposit via mobile device to claim.

Bonus offer valid until April 15, 2016

WinADay's Mobile Casino Manager, Michael Hilary, said, "Our newer games are all made with the latest HTML5 technology, so they've got great graphics and sound effects and people are playing them on all kinds of mobile devices".

"We're proud of our mobile slot games and we're thrilled that they're becoming so popular with players switching from laptops and desktop computers to phones and tablets," said Hilary. "But we didn't get where we are by saying 'good enough'. We're always improving. Our new mobile casino will make even better use of the small screen space and it'll be even simpler to navigate."

The latest addition to the proprietary games portfolio was Ice Crystals in March. Players have been enjoying the new game, which now brings the premium Slots grand total to 33 original titles and 18 unique penny slots. Keno, Roulette and Video Poker variations create a selection of 63 games like no other.

Most of the games offered in the desktop version are currently available for mobile play. The new design is expected to be revealed later this year.