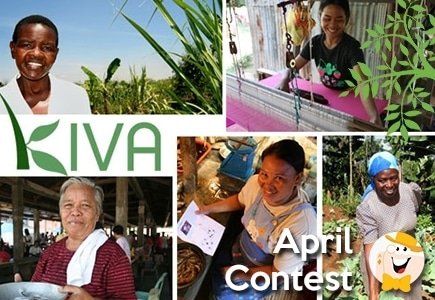 It's a new month and LCB is back with a very special member's only contest. This April we've doubled the usual $250 prize pool to offer $150 in LCB Cash and $350 in charitable Kiva vouchers.

Kiva is a unique charity close to LCB's heart. The concept is based on loans of at least $25 that are eventually repaid. Borrowers are located across the globe and we can help those in need of loans for anything from school to small business start-ups, clean energy and more.

Once you select a borrower to support, they'll begin repaying your loan over 6, 12 or 24 months with 0% interest. Once repaid, lenders put their dollars toward helping another in a wonderful circle of good deeds. All of this can be done with a one-time donation of $25.

"Rather than assessing your credit history and financial statements, Kiva Zip uses your character and trust network as a measure of creditworthiness." Every borrower has been subject to an application process so you'll be able to see the details associated with your loans as well as the lives you're touching.

To take part in our contest the prize pool will be broken down as follows:

14 - $25 Kiva vouchers

1 - $50 LCB Cash

1 - $40 LCB Cash

1 - $25 LCB Cash

1 - $20 LCB Cash

1 - $15 LCB Cash

LCB will give each of the 14 winners Kiva voucher worth $25 to get started. All you have to do is register as part of LCB's Kiva Team to enter this contest.

The remaining $150 in LCB Cash may be used to purchase items in the LCB Shop such as offers from LimoPlay, Shanghai Spins, Bitstarz, Sloto'Cash and many more. While it's not required we encourage you to put your LCB Cash to good use, even if it's just one time, and purchase a Kiva voucher.

Please join us for the LCB $500 April Kiva Charity Contest. Good karma can be a gambler's best friend!