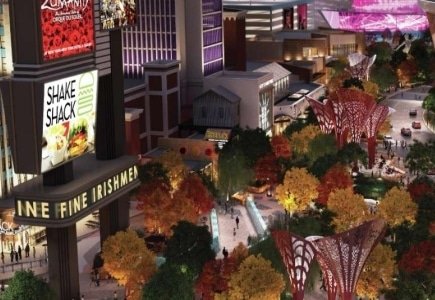 Earlier this week, on April 4th, MGM Resorts International celebrated the public opening of The Park entertainment district in Las Vegas. The $100 million project in its finished state, stretches from the Las Vegas Boulevard's sidewalk to the T-Mobile Arena, and boasts a selection of dining options, as well as attractive landscaping work. It is similarly modeled after the Grand Bazaar Shops located in front of top casinos like Caesar's, and Bally's.
Among its restaurant options include simple favorites like California Pizza Kitchen, along with Bruxie, an ideal breakfast option specializing in waffles, Beerhaus, and a Japanese restaurant, titled, Sake Rok, equipped with a dining room and sushi bar.
The park also showcases the city's art scene, featuring an impressive 40-foot sculpture depicting a woman dancing, titled, Bliss Dance, along with other tasteful pieces. Additionally, it has been stressed by both MGM's CEO, Jim Murren, and Clark County Commissioner, that this project took an alternative route in terms of design, and refrained from creating water fixtures simply for show in a community plagued by drought.
Murren, commented to the Las Vegas Sun, that the landscape was designed to "show the people of the world how beautiful our desert can be," as well as to highlight its "indigenous beauty."
The park opened to the public this past Monday, but visitors are still in store for a few surprises. MGM Resort's theater project inside the Monte Carlo is still in progress, with expectations of opening sometime later this year. It has received a prime location right alongside the park, only adding to the array of offerings boasted by this newly launched development.