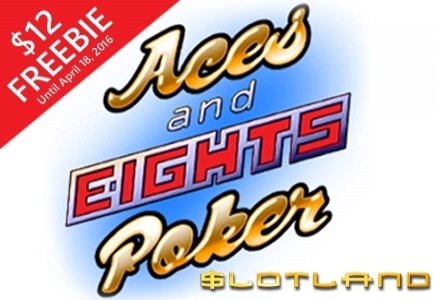 While Slotland is most well-known for their slots, having provided unique reel machines to online players for over 17 years now, the site has launched a new video poker game. Most are familiar with the popular variant, Aces and Eights. Players can look forward to wins for pairs of Jacks or better, with the highest prize of 800x the bet, awarded for a Four of a Kind with Aces or 8's.

In particular, this variant is made up of a single hand video poker game, which is played with 52 cards. Players are dealt five cards, and may choose to hold or discard up to five cards. In the event that cards are chosen to be discarded, new ones will replace them, for a chance to build a better hand.

There is also an opportunity to double your win, in the event that the win is greater than the bet. When this happens, five cards will be dealt, with the first one face-up, while the others are face-down. The player must then select one of the face-down cards to be higher than the dealers. If the player succeeds, the win is doubled.

Manager of Slotland, Michael Hilary, stated "Aces and Eights is also known as the Dead Man's Hand. Wild Bill Hickock was a famous lawman, gunfighter, and legendary gambler who was shot dead while playing poker. They say Hickock died holding a pair of 8s and a pair of Aces."

Members of Slotland can also benefit for trying out the site's newest gaming addition this month, from April 12th through the 18th. For an entire week, members can claim a generous $12 Freebie, along with deposit bonuses, awarding up to 80% back. Each portion of the offer requires a bonus code. To claim the $12 Freebie, enter the code, 12FREEBIE. For access to the 80% deposit bonus, enter: TRYME.

Finally, you may enter, PLAYPOKER, to claim a second deposit bonus, offering up to 55%. This particular offer can be redeemed up to three times per day. Those who make a deposit between $25 and $99, will be eligible for a 30% bonus, while those who deposit $100 to $199 can get 40% back, and a 55% bonus is awarded to those depositing between $200 and $300.