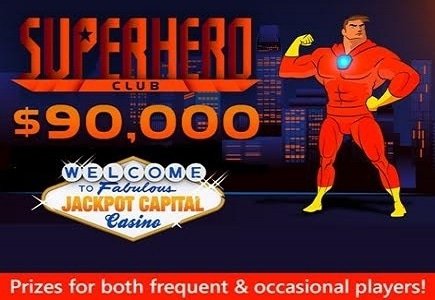 Jackpot Capital Casino is hosting the $90,000 Superhero Club bonuses event. Wonder Win, Iron Slot and Captain Jackpot are on hand to help players win $17,000 in weekly prizes plus an additional $5,000 in random prizes giving everyone an opportunity to win. Additional cash prizes will be awarded to the casino's Facebook Friends as well.

All players will earn points for playing games in both the online and mobile casinos. Earn the most points to receive up to $600 in bonuses every week and everyone that plays could be a random bonus winner every Friday. Use your bonus to help launch into the top spot for the following week and receive an even larger share of the bonus offers up for grabs.

"The more you play, the bigger your bonuses will be" said casino manager Oliver Smith. "But with $5000 awarded randomly every week, everyone has a chance to win."

The $90K Superhero Club event is currently underway and will run until May 15, 2016. Log in to check the stats and see additional promotional details.