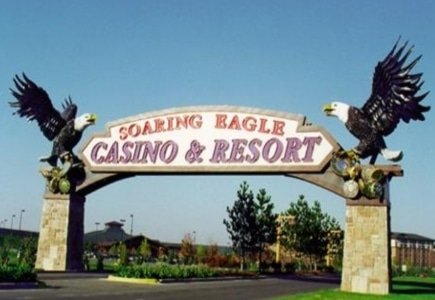 A real-life nightmare took place for the employees and customers at Soaring Eagle Casino & Resort, located in Mt. Pleasant, Michigan, this past Thursday night, April 21st. The establishment was faced with bomb threats via two separate calls occurring within the 10 o'clock hour, similar to a threat made back in 2009.
The first call was received around 10:15pm, and the second occurred at approximately 10:45pm, both made by female parties. According to interim public relations director for the Saginaw Chippewa Indian Tribe, Erik Rodriguez, stated "Tribal officials deemed they were credible," in reference to the threats.
Within the hour, a decision was made to evacuate about 2,500 in combined guests and employees from the premises. A shuttle was made available to guests, and they were given the option of being taken home or relocating to another of Soaring Eagle's facilities.
A number of authorities came out to inspect the property, including the Michigan State Police, Midland K-9 units, and the Emergency Management Operations Center. It has since been announced that nothing suspicious was found during the inspection, and no individuals were harmed.
According to Rodriguez, "We weren't given the all-clear until about 6 o'clock this morning," referring to Friday, the 22nd.
Authorities are said to have acquired a 'person of interest,' but it has been reported that no arrests are believed to have been made at this point.
Guests forced to evacuate the facility will be appropriately reimbursed, and the casino will be reopened to the public sometime Friday morning.