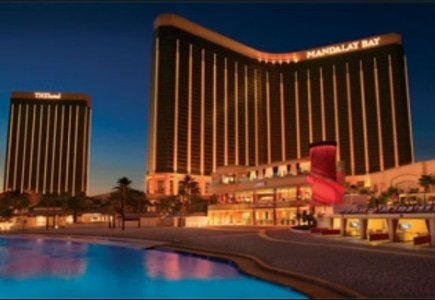 The remodeling process for the high-end, Mandalay Bay Resort and Casino, located in Las Vegas, Nevada, has finally come to a permanent halt. After beginning construction on the facility last year, it is now ready to show off its new and improved look, which cost approximately $100 million. The renovation specifically targeted the resort's rooms and suites, to deliver a more premium guest experience. The reconstruction was completed by the MGM Resorts National Design Group.
Located on the south end of the Strip, visitors can look forward to a luxurious setting, consisting of an 11-acre beach/pool complex, a wave pool, lazy river, shark aquarium, shopping, and plenty of dining options. What were already regarded as elegant rooms, have been updated with new color schemes, and improved furnishings. Resort guest rooms are adorned with onyx-accented mural walls. Guests will have the choice of a Resort Queen or Resort King, each equipped with their own distinct design.
One or two bedroom suites are available, each offering a living room and dining space. Guest suites are accented with natural stone and wood, and elaborate, jewel-toned fabrics. Luxury guest rooms have been newly designed as well, featuring a dining space, and floor-to-ceiling windows, from which the impressive, Vegas skyline can be seen. These are available in one or four bedroom options.
Each of the accommodation options have been split into three different collections: The Resort, The Suite, and The Luxury Collection. These areas set apart the guest rooms from the suites.
With the remodeling process complete, visitors from this point on will be able to experience the new look of Mandalay Bay Resort and Casino's rooms.